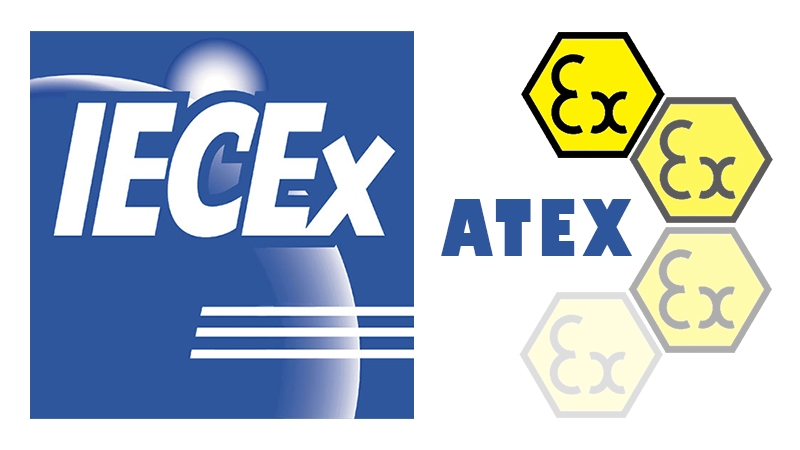 ATEX is an abbreviation from the French, ATmosphère EXplosible (or explosive atmospheres, translated into English). This a term is used in the EU ATEX Directive 94/9/EC (now replaced by ATEX Directive 2014/34/EU), a code meant to regulates devices used in explosive atmospheres. Generally, "ATEX" is used to refer to those ATEX certifications/standards and a product's suitability for being used in hazardous environments
What is ATEX certification?
ATEX stands for Atmosphères Explosibles. It is a European Union directive from the European Committee for Standardization that covers "equipment and protective systems intended for use in potentially explosive atmospheres." An atmosphere can be explosive for several reasons, including flammable gases, mists or vapours, or combustible dust.
All equipment and protective systems intended for this type of use in the EU must meet ATEX health and safety requirements. In this way, the directive is similar to the Global IECEx or NEC standard in the United States.
Equipment manufacturers whose products are intended to be used in Europe are responsible for making sure their equipment complies with ATEX standards. This process involves conformity assessment procedures and certification by a third party called a "Notified Body." Certified equipment is marked with the below shown symbol.
For equipment intended for use in certain less hazardous explosive locations, manufacturers can also self-certify their equipment.
Our Locations: Doha – Qatar, Muscat – Oman, Dubai, Abu Dhabi – UAE, Riyadh, Dammam – Saudi Arabia
ATEX certification is given to equipment that has gone through rigorous testing outlined by European Union directives. Products that are ATEX compliant have been proved safe to use in specific environments with explosive atmospheres, according to the zone/s they are certified to be used in.
The European Union has mandated that ATEX compliance is necessary wherever a potentially explosive atmosphere exists in order to keep workers safe. These atmospheres are characterized by possessing three things.
air
an ignition source
one of the following three substances:

flammable gases
mists or vapor
combustible dust
Products that have received ATEX certification will have the official "Ex" badge, indicating they are safe in explosive atmospheres.
Non-ATEX/IECEx safe computing devices used in hazardous areas could be an ignition source, so it is critical that ATEX/IECEx certified computing devices are used in those areas. If they are not, the situation immediately poses great risk to workers' safety. That's why we've built rugged computing devices that are ATEX/IECEx certified.
Any equipment or protective equipment which is having its own source of ignition and to be used in potentially explosive environment needs ATEX certification. ATEX certification ensures that equipment will work safely in explosive environment without causing any accident if used as per the manufacturer's recommendations. Equipment used in explosive atmosphere within the European Union (EU) and the European Economic Area (EEA) must be ATEX certified.
Manufacturer himself, his authorized representative, importer and distributor should ensure that their product meets the essential health and safety requirements and undergo appropriate conformity procedures before exporting equipment or protective system to Europe.
Who can all avail ATEX Certification?
Manufacturers and exporters may contact us for ATEX certification of Cable glands, Automatic Lubricator, Electric Pumps, Motors, Fans, Blowers, Mechanical Brakes, Gears, Valves, HVAC, Chillers, Storage Cabinets, Junction Boxes, Empty Panels, Plugs & Sockets Outlets, Flame Arrestors, Spark Arresters, Transmitter & Sensors, Barrier/Electronic, Machines and Non-Electrical Assembly.
There are two ATEX Directives, one for the user of the equipment and one for the manufacturer:
ATEX Directive 2014/34/EU (Equipment) – Equipment and protective systems intended for use in potentially explosive atmospheres
ATEX Directive 1999/92/EC (Workplace) – Minimum requirements for improving the safety and health protection of workers potentially at risk from explosive atmospheres
How can we assist you to obtain ATEX Certification?
We have collaborated with approved Test Labs / ATEX Certification Bodies and can support you for ATEX Certification of electrical equipment and testing as per harmonized standards:
EN 60079-0 – General Requirements
EN 60079-1 – Flameproof equipment
EN 60079-2 – Pressurized equipment
EN 60079-6 – Liquid immersion
EN 60079-7 – Increased safety
EN 60079-11 – Intrinsically safe equipment
EN 60079-13 – Equipment protection by pressurized room and artificially ventilated room
EN 60079-15 – Non-incendive equipment
EN 60079-18 – Encapsulation
EN 60079-25 – Intrinsically Safe System
EN 60079-28 – Optical
EN 60079-31 – Dust protected equipment
We can support you for ATEX Certification of non-electrical /mechanical equipment and testing as per harmonized standards:
EN ISO 80079-36 – General requirements (replaces EN 13463 series)
EN ISO 80079-37 – Protection by construction, control of ignition and immersion
We can support through our Notified Body for product testing, assessment, factory audits in accordance to EN ISO 80079-34, storage of technical file and provides following services as per conformity assessment procedure:
Annex III: EU-Type examination
Annex IV: Quality assurance of the production process
Annex V: Product verification
Annex VI: Internal production control plus product testing under supervision  
Annex VII: Product quality assurance
Annex IX: Unit verification
Our Locations: Doha – Qatar, Muscat – Oman, Dubai, Abu Dhabi – UAE, Riyadh, Dammam – Saudi Arabia
Do all materials in ATEX Zones need to be ATEX certified?
ATEX certification requirements vary depending on the category of equipment and the zones of the equipment's intended use.
We perform ATEX testing on materials, such as air powered drills or turbine assemblies that are going into an ATEX Zone and can potentially generate and store a static charge. These tests give you confidence in the materials used and the pace of mind. However, as they pose no actual ignition risk in themselves, the products cannot be ATEX certified. For example, with a plastic bucket, although there could be a small buildup of static, the bucket in itself cannot cause a spark or discharge and therefore would not be a risk.
How do I certify non-electrical equipment for use in explosive atmospheres?
All non-electrical equipment that poses an ignition risk needs to be covered by the ATEX Directive and will refer to standards EN 80079-36:2016 and EN 80079-37:2016. Typical non‐electrical equipment which may present a potential danger include motors, gear units, air powered drills, turbine assemblies valves, and rollers.
We highly recommended that you design non-electrical products in line with these standards to avoid serious difficulties trying to amend and alter a product after prototypes have been finalized.
How do I certify an ATEX product that I have not manufactured?
When certifying a product over which you have no design control, it is essential to find out whether the product or material that it's made of has been altered in the design process. If this is the case, manufacturers must confirm that any alterations made fall within the limitations of the standards that a product had initially been certified to. Even then, you may still require to perform an amount of additional testing. Because of this, certifying a product bought off the shelf from another company is extremely difficult and verges on impossible if you do not have a close working relationship with them.
Our Locations: Doha – Qatar, Muscat – Oman, Dubai, Abu Dhabi – UAE, Riyadh, Dammam – Saudi Arabia
For more support and if you'd like to discuss your ATEX and IECEx requirements in more details, contact us today. Our Experts are ready to guide you through our capabilities and highlight if there may be any barriers to certifying your ATEX / IECEx product.